It has been a busy 2018 so far for Enebak Construction and doesn't show signs of slowing down. Despite the prolonged winter, ECC crews are back to work, working across the metro area including projects in Lakeville, Woodbury, Plymouth, and Blaine. A few jobs that ECC is working on this season are:
HIGHCROFT | Woodbury, MN – Tradition Development
We just finished grading on Tradition's Highcroft development in Woodbury. The utility crews are now installing sanitary sewer, watermain, and storm sewer throughout the site. Some of the sewer on the site is more than 30 feet deep, which requires more preparation and equipment. The grading crew is helping the sewer crew increase productivity by sub-cutting and hauling material to backfill pipe that
has already been installed.
GLEN VIEW FARM | Woodbury, MN – The Excelsior Group
Construction has started on the Glen View Farm development. This project is adjacent to the north of Tradition's Highcroft project. This project includes 250,000 cubic yards of grading, as well as installing sanitary sewer, watermain, and storm sewer.
SPIRIT OF BRANDTJEN FARM | Lakeville, MN – SBF Development
There are plans for utilities and streets to be installed in the 19th and 20th Additions of Spirit of Brandtjen Farm later this summer. The 19th Addition will include 44 single family lots and will be constructed and ready to build on. The 20th Addition will include 62 single family lots that will be developed.
LEGACY AT NORTHSTAR| Lake Elmo, MN – GWSA Development
ECC will be starting construction on the new Legacy at Northstar development. This 100 acre site in Lake Elmo will be built into 269 single family lots and includes nearly a half million cubic yards of excavation.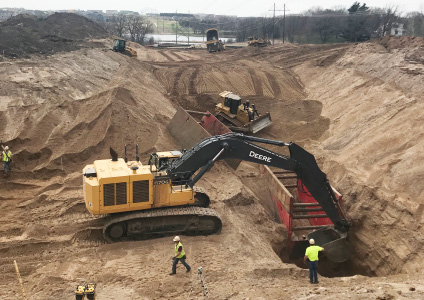 While the winter was dragging on, some ECC staff, including office personnel, foremen, and mechanics, snuck away for a weekend at the Tradition Lodge for some ice fishing. It was a nice getaway that ended with a fish fry before heading back to work.
In May, a story was mentioned in the local news that involved ECC. Two ECC employees alertly noticed a 5 year old child that had fallen into a pool at a nearby apartment complex. They jumped the fence to the pool area, pulling the young boy from the pool and administered CPR. The boy was rushed to the hospital by ambulance. The condition of the boy is still unknown.