In October of 2017, Legends Club took the first steps to becoming weather independent. They installed two new, state of the art golf simulators! The new Simulator Center is currently sharing space in the Banquet Room, and is open weekdays from 10am to10pm, and weekends from 9am to 10pm. The simulators can be used at a cost of $35 per hour.
The systems from HDGolf simulate the experience of playing golf indoors by hitting balls against a 10 ft. x 13 ft. wide screen. The system incorporates a revolutionary, proprietary software and computer vision technology. By combining high-resolution imagery with geophysical and satellite data, the result is a high-definition 3D photo realistic reproduction that is crystal clear and faithfully reproduced, you'll swear that you are standing on the actual golf course. With multiple cameras, HD Golf also has the industry's most advanced tracking technology that measures all critical club and ball data precisely, creating a true reproduction of your ball's flight. Legends Club also boasts the only Sony Laser 5000 3 LCD Projector system in the Twin Cities! This truly is the ultimate indoor golf experience.
"We anticipate that the ability to open up opportunities for our guests to come to the Club during the 'off-season' for the golf course should be a bonus to the bottom line." says General Manager, Mike Luckraft. "We are looking to see an increase in revenue, not only with the simulator income, but also in the Bar & Restaurant with increased food & beverage sales; the Pro Shop with hardgoods sales by having the ability to do clubfitting and teach lessons year-round; and in Events & Banquets by offering a unique experience to meetings, parties and events."  continues Luckraft. Samantha Smeester, Legends Club Event & Banquet Manager adds, "There has been a huge interest in having the simulators available for holiday parties and meetings ever since we announced they were available. The new addition enhances a typical party. Guests are intrigued by the excitement and are enthused to get out of their seats to play and compete."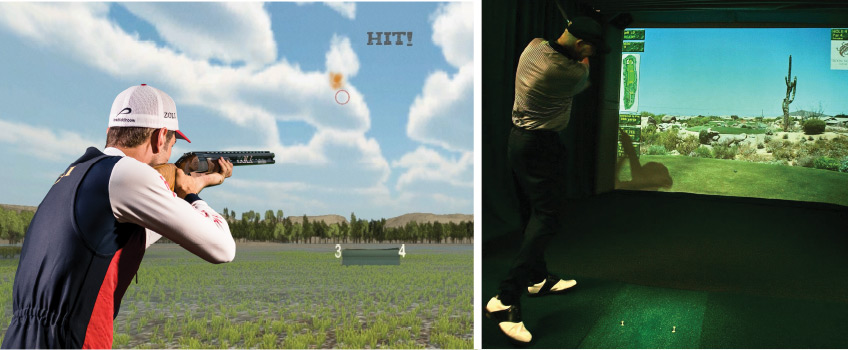 Legends Club has 36 world famous golf courses to play; like Pebble Beach and the Old Course at St. Andrews; as well as a number of other golf games like closest to the pin and long drive contests, glass breaking, etc. There is a Simulator League starting in January where one 2 person team plays a weekly match against another team for prizes. They will play a different golf course each week – the same course being played that week on the PGA Tour! One of the simulators has Laser Shot capability. Laser Shot is a firearms simulation that SWAT teams and the military use for training. There is a laser shotgun for sporting clays and duck hunting, as well as two handguns (Glock 17 and Colt 1911) for competition target shooting and close quarters situations.
These new simulators will allow Legends Club to give guests the golfing (and firearms) experience no matter what the weather is doing outside this winter! The simulators are planned to be operational from November through April.